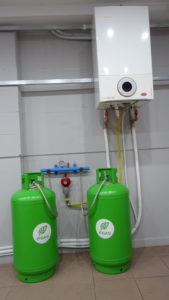 Liquefied petroleum gas, also known as LPG, is a mixture of hydrocarbons with propane and butane as its main constituents. It is stored in bottles or tanks and is used for domestic, commercial and industrial use. It offers economy and autonomy covering all our energy needs such as heating, hot water and cooking. It has high thermal efficiency and ease of installation, at low cost.
For the above reasons it is the number one choice for autonomous heating installations in homes and businesses / hotels:
In Attica, on roads where a natural gas pipeline has not yet passed
In remote areas where the passage of a gas pipeline is impossible
And in cottages, which operate certain months of the year and we want to avoid increased electricity consumption for heating these homes.
Finally, the main advantage of a wall-mounted unit with liquefied petroleum gas is that with the passage of a natural gas pipeline it is possible to connect to the natural gas since the wall-mounted boilers have the ability to operate on both fuels.